Tiger Field
As of 2014, HDRCC now pays an annual lease to use Tiger Field.  Please help keep Tiger Field open as an RC flying site by supporting HDRCC, either by becoming a member or via a donation.
---
Be aware that changes have been made to the Taxi and Pits parking. There is no more pilot parking on the north side of the taxi ramp. There has been an increase in full sized air traffic. Please also note parking on the south side of the taxi ramp has markers. Please stay within the markers. Guest parking is still to the south of the main hanger and is marked.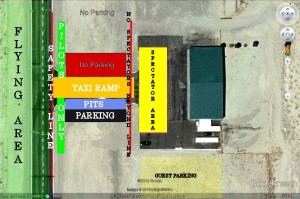 Club Radio
The club has recently purchased with the help of Bill a tracon transciver. It should be in the shed, and pre-tuned to traffic around Tiger Field. Please set the radio up and turn it on when flying. More instructions on radio operations to follow.